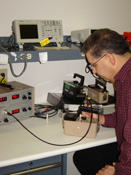 The MJW Companies offer a "State-of-the-Art" calibration facility staffed with experienced technicians capable of repairing and calibrating most makes and models of radiological detection instrumentation.
When an instrument needs repair and once we have determined the problem we will email and or call with an estimated cost of repair before it is completed. If an instrument is sent for recalibration and a problem arises that requires repair we will email and or call for authorization before any repair is completed.
Labor Rates
| | |
| --- | --- |
| Labor Type | Labor Rate / Hr |
| Technician | $90.00 |
| Engineering | $120.00 |
Calibration Fees
Instrument / Type
Fee

Standard Calibration Count Rate / Dose Rate

As found readings
Two points per range (up to 4 ranges)
A single probe
One efficiency (CountRate, see available sources below)
NIST traceable sources
ANSI N323 and ISO 17025 compliant

$65.00
Each Additional Detector
$15.00
Each Additional Range
$15.00
Each Additional Source with Efficiency – Available sources: 

Am-241, Pu-239, Th-230, U-235, C-14, Cl-36, Co-60, Cs-137, Pm-147, Sr/Y-90, Tc-99, Ti-204, I-129, Co-57, and I-131

$10.00
Scaler / Ratemeter / Data Loggers
$90.00
Simultaneous Alpha / Beta Meters
$100.00
Stretch Scopes
$125.00
Pulsers
$125.00
Victoreen 450's and 451's
$110.00
Victoreen 470A
$130.00
Pencil Dosimeters (non-electronic)
$30.00
Electronic Dosimeters (See Personal Radiation Monitors page)
Neutron instruments performed at Ludlum or ThermoFisher with customer approval
Exposure rate calibrations are performed using NIST traceable Cs-137 sources.
Typical turnaround times are 3-5 working days or less for calibration and 7-10 working days for repairs.
Prices do not include applicable taxes or return shipping.
Standard UPS ground shipping without insurance unless otherwise requested.