The MJW Companies offer radioactive source leak testing services.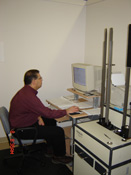 MJW Technical Services is licensed by the New York State Department of Health to provide source leak testing services that cover all aspects of the medical, commercial, industrial, and private sectors. Leak test services offered will meet all regulatory requirements and any special requirements requested by the customer.
Leak test kits are available for $30.00 each except for a low energy and short half-life isotope which is $40.00 each for a single sample (ex; Cd109, Cf252, Fe55, Ga68/Ge68, Gd153, Ni63, Pm147). The price includes the sample media, all analytical services and reports. Customers may also send in their own leak test samples. And when doing so please include a completed "Source Leak Test Form" for each leak test sample. The form is available on the left side of this page. Please call 716-372-5300 for more information on volume discounts and to order leak test kits.
The MJW Companies can also provide leak testing services at the customer's site.